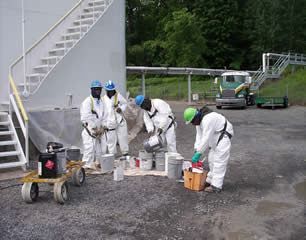 UHP PROJECTS, INC. provides Ultra High Pressure (UHP) water-jetting and other related services to multiple Commercial, Industrial and Marine industries for the removal and replacement of coatings from steel structures. This technology allows us to offer our customer an environmentally safe and cost effective alternative to abrasive blasting and conventional cleaning techniques. However, we still provide our clients with abrasive blasting and conventional cleaning as another alternative of our services. UHP PROJECTS, INC. has specially designed equipment for work on vessel at sea or offshore platforms. We have successfully performed work in many areas of the world including the South Pacific, Europe, Middle East, Caribbean, Gulf of Mexico, as well as the East and West Coasts of the United States. We offer industry-leading benefits as we strive to be recognized as the employer of choice by our employees. UHP PROJECTS, INC. is a "Drug-Free" workplace and a mandatory Drug Screening is required. We are also a HUB Zone and Equal Opportunity Employer. All applications must be filled out and submitted online. Should we contact you for an interview you may at that time bring your resume with you.
Commercial and Industrial Estimator
Production Managers
Project Managers
Commercial and Industrial Painters
Equipment Supervisors
UHP Ultra-High Pressure Mechanics
Equipment Operators
Ultra High Pressure Water Jetters
Non-Skid Removal and Replacement
Marine Painters
Power Tool Operators
General Laborers
Thank you for your interest in working with UHP Projects.
Please fill out our ONLINE APPLICATION.
All applications are received immediately after submittal. You will be contacted by UHP Projects if Operations chooses to further discuss your qualifications. It is not necessary for you to call to check on the status of your application as we receive a high volume of these calls daily. Please note that we keep all applications on file for up to 60 days.