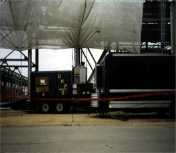 Lead based paint abatement does not have to be a problem. Because UHP Projects, Inc. is a certified Lead Abatement contractor we can eliminate many of the costs and hazards associated with the abatement of hazardous coatings. The high velocity water jets remove the coatings without creating any of the airborne particulate associated with most surface preparation techniques. This eliminates most respirable lead problems for both equipment operators and plant personnel. The effluent water can be captured either through the use of vacuum attached equipment or specially designed ground containment. UHP Projects, Inc. has developed filtration trailers specifically designed to remove lead particulate from the effluent water, thus rendering the water non-hazardous. The lead paint waste can be drummed for disposal and the water can usually be disposed of in the plant waste water system after testing. Lead abatement can be particularly difficult in elevated pipe racks near working units.
UHP Projects, Inc. can supply turnkey services to clean, re-coat, contain, and filter the effluent water without removing the equipment from service.
A Niosh report on lead abatement states: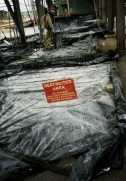 "The ideal method of exposure control would contain the hazard at the emission source and not rely respiratory protection."
It also "Recommends the use of less dusty techniques for the removal of lead-containing paints from structures."
The report goes on to state that high pressure water jetting suppresses the dust by agglomerating the dust into water droplets. The water may be disposed of through the public sewage system after it has been cleaned and treated.
This graph demonstrates UHP Projects, Inc. effectiveness at lead abatement and containment