Description of Technology
UHP Waterjet cutting is used for areas where a heat free cutting is required to eliminate heat distortion or in combustible atmospheres where hot work is not permissible. It can also be used where multiple materials make torch cutting impossible such as steel lined with refractory or rubber.
Dry abrasive grit is introduced into the high velocity 40,000 PSI water stream exiting through an internal orifice. The abrasive is mixed into the high velocity water jet stream accelerating the abrasive as it passes through a carbide nozzle to be directed against the material being cut. The high energy abrasive/water mixture exits the nozzle as a pressurized stream and impinges the surface cutting the substrate material. The base metal is cut without any heat affected zone.
A variety of tracking systems can be utilized to guide the cutting head along a pre-described path. This track can be attached to the structure to be cut by mechanical, magnetic, or suction.
UHP Projects uses UHP pumps capable of 40,000 PSI and 6.8 GPM to perform the required cuts. The capacity of these units would allow multiple cutting heads to be used on each pump if this becomes necessary. This builds into the system some excess capacity for additional work or in case of equipment delays.
Cat Cracker cutting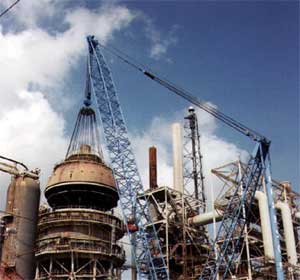 UHP Projects has utilized this technology to cut thick steel and a refractory lined interior. UHP cut this 68′ Diameter Cat Cracker Regenerator which had 1-7/8′ thick steel and 5″ of refractory. This allowed the top of the unit and all cyclones to be removed reducing the turnaround schedule by approximately 2 weeks. It also provided a smooth beveled surface ready for re-welding.
We have built our reputation on the successful completion of projects, advances in equipment, and a proactive involvement with advancing the acceptance of these procedures. One example of these advances was when UHP Projects completed cutting over 6000 linear feet of 1″ steel on the hanger deck of a US Navy aircraft carrier. This project included the containment, cutting, and lead abatement of these areas, which were filled with a combustible preservative, during an active refueling project. This "first of its kind project" was successfully completed on schedule and within budget with an exceptional safety record.
Lined vessels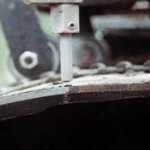 Because this is a "cold" cut with no heat generated, the technology can be used for many applications. Areas that need heat free zones such as rubber liners (pictured) can be cut with no damage to the liner.
Tank Applications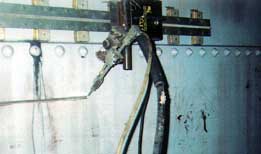 There are many applications for UHP waterjet cutting in Tank farms. Doorsheets, floating roof pontoons, contaminated tank floors and piping are excellent examples of these applications.
The cutting head can be placed on a bevel providing stress free cuts and ready to weld surfaces. Corners can be cut with a radius to eliminate stress and allow doorsheet replacement.